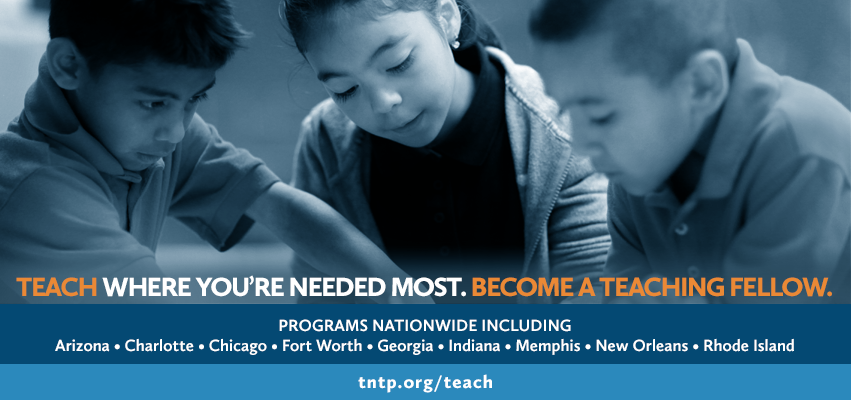 Looking for a meaningful career in education?
Become a Teaching Fellow! Click here to complete an online application or learn more about our programs at tntp.org/teach
TNTP's Teaching Fellows programs train accomplished professionals and recent college graduates across all academic majors to become excellent teachers in locations nationwide. We are looking for leaders who want to put their language fluency and professional experience to use teaching English-language learners or bilingual students who speak languages including Spanish, French, German and more.
We strongly encourage candidates who have completed college-level foreign language courses or are fluent in a foreign language to apply this week, as we review applications on a rolling basis. Not fluent in a foreign language? We are also looking for candidates to teach high-need subjects like science, special education and math! No teaching or education experience is required. Each program provides extensive on-the-job training and individualized coaching to all participants.
Although our final application deadline has passed, several Teaching Fellows programs have extended their deadline and are still accepting applications on a limited, rolling basis. Candidates who start an application this week will receive an email update indicating which programs are still accepting applications for the 2013 cohort.
Participants in our programs…
Master foundational skills during the summer to lead engaged classrooms from day one.
Improve quickly with classroom-centered training and intensive coaching.
Pursue certification while earning a full-time salary, starting at $30,000-60,000 plus benefits.
Can apply without education coursework or experience.
Qualifications and eligibility vary by program, but generally include:
Bachelor's degree completed by Spring 2013
Legal authorization to work in the U.S.
Passing an FBI background investigation
No previous teaching certifications
Be Greater. Start our streamlined online application today!